I have a dilemma of sorts.
The walls in my new apartment change colours. The light shifts through out the day. I've been staring and staring, all day long, trying to figure out how to decorate with a colour that changes constantly. It's like a damn mood ring!
With warm daylight, the tone is a greenish/beige/grey (also known as Greige, apparently) and then, as the sun's light cools off and fades into the distance, our walls becomes grey. Personally, I love the colour grey (or "color gray" for all you Americans). This is the closest example I could find: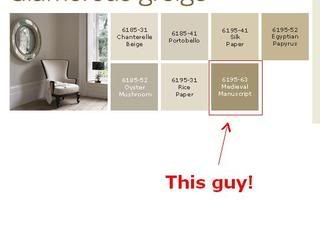 After much consideration, I think the best colour combo for the every changing walls would be White/Grey/Yellow theme. Nice bold shocks of yellow with sweet clean lines of white and grey to keep it from being to electric.
Dave and I went down Whyte Ave, the trendy street in Edmonton (and our new address) and were looking for lamps and decor stuff and I came across a great reproduction poster, framed, at a super cheap price ($45.00 CAD). I bought it and fell in love with it even more so when I saw it against our walls.
It's a vintage poster from Air Afrique: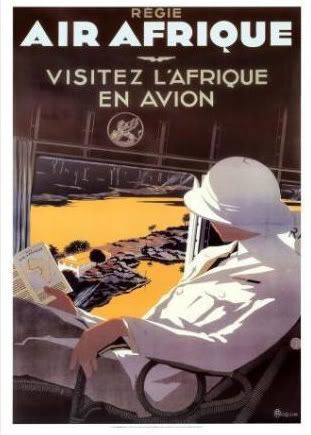 I love vintage posters. The art, the style. I especially love Art Deco posters, so you can see why this one grabbed my attention.
On to my small tiny dilemma ( while people are starving and countries going through Tsunamis, Earthquakes and other horrible things...let's keep this in perspective):
I also am interested in this Art Deco poster from the movie "Metropolis" and am wondering if the two posters clash, compliment each other or if they don't work with the wall colour. I'm very nice and decided to show you the two posters side by side, on the different shades of my wall.
Day time: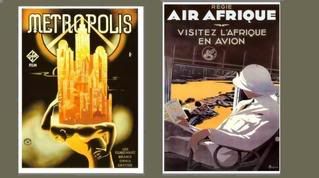 Evening: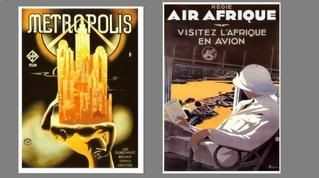 So, blogosphere? Should I buy the second poster (which is about 50-70 bucks before it's framed) or should I keep looking?
I am a bit biased because I really love both of them and I love that they both have yellow. Though they are both Art Deco, the style and subject matter is totally different. Hmmmm....
I want your opinions!